Mot de l'ancien Frère Directeur (2010-2012)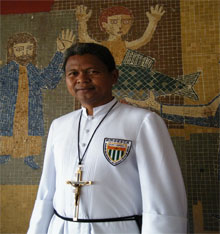 At the very beginning was love, the God of love, who sent us his only son.
It has been now 80 years since the "Ecole Sacre-Coeur of Antanimena (ESCA) is working at the spreading of the Good News of love, SOURCE of our solvation.
Since 1932, as a spring of living water, graces and blessings never stopped flowing abundantly through .Its educational mission towards the children and youths, sign of the vitality of the charisma which animated our founders: Father André Coindre, Brother Polycarpe, our three pionners in Madagascar. (The brothers: Aldemar, Theophane and Aimé) and our elder brothers.

Many are the educators who worked and who are still working along with the students's parents for the children's education; numberless are the graces drawn from the Sacred Heart of Jesus which allowed to educate and build men and women who are the pride and the honour of the family, of the nation and the world as a whole.

Nowadays, in the web era, it is our great joy, to put at your service this website in order to strengthen our communication and our communion, since what animates us is an education and a pedagogy based on trust and taking responsability: the single person is the first one to be in charge of his own education.

We do hope that this website will give a contribution to our educational mission and to the spreading out of the Kingdom of love of the Sacred Heart of Jesus.

Ametur cor  Jesu !
Retrouvez Le mot de l'ancien Frère Directeur en : Version Malgache - Version Française